Clio | Diana | Euterpe | Carla | East | Butterfly | White | Topiary

Although it forms a visual balance to the Clio Garden, the less formal Euterpe Garden is a much looser interpretation of the garden room. Euterpe, the muse of music, represents one of Miss Hogg's greatest loves. The precise location for the statue was chosen because of two superb trees--a loblolly pine and an American sycamore--that predate the house and still stand. Euterpe sits in front of columns of Japanese yew, shaded by overhanging branches of pine and oak. At the base of the statue, maidenhair fern are flanked by George Tabor azaleas and taller banks of Formosa
and Judge Solomon azaleas.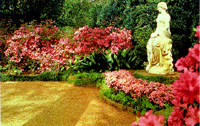 Redbuds, pink oriental magnolias, and purple Mexican plum trees are planted nearby. Look for blooming redbuds in February and March, azaleas in March and April, and magnolias in May and June.
Euterpe, 1938
Antonio Frilli Studios,
Florence, Italy, after a work
in the Vatican Museum, Rome
Carrara marble



Euterpe Garden, 1938-39
Designed by C. C. "Pat" Fleming
and Albert Sheppard in
collaboration with Miss Hogg

Hurricane Carla destroyed many of the trees in this garden when it struck Houston in 1961. Several more trees fell during Hurricane Alicia in 1983, forming a triangle around Euterpe, but the statue somehow escaped damage.


Introduction | History | Woodlands | The Gardens | Map of the Gardens | Search the Gardens
Home | About Bayou Bend | Information | Collection | Gardens | Miss Hogg | Education | Site Map
This website was a created as a class project by students at the University of Houston College of Education. It is not the approved website for the Bayou Bend Collection and Gardens or the Museum of Fine Arts, Houston. Refer to the MFAH website for information about Bayou Bend at: http://www.mfah.org.